Hello All-Options community,
In a huge win for our movement, Texas' 6-week abortion ban known as SB 8 was temporarily blocked last night by a federal court! While we celebrate this victory, the fight is far from over. Despite the chaos and uncertainty the last month brought, we are grateful for the new supporters welcomed into our movement, many of whom mobilized this past weekend to demand #AbortionJustice across the country.
It's during difficult times like these that we're reminded of our collective power and feel energized to keep fighting for a future where all people are supported in making the reproductive decisions that are best for their lives. Read on for highlights of the last month, opportunities to get involved with All-Options, and to meet our newest team member, Karlie!
Introducing Karlie Thomas, Our National Trainings Coordinator!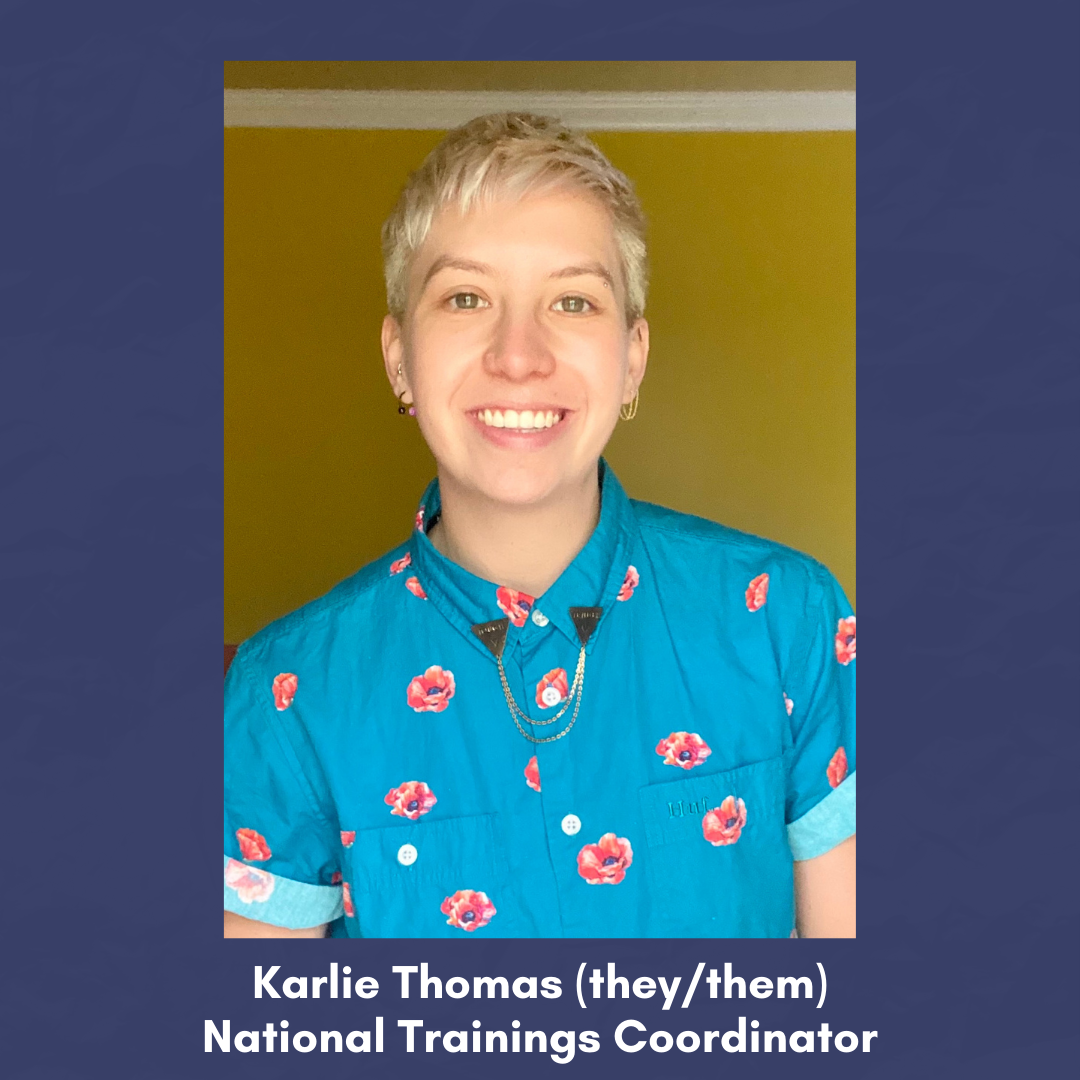 We are pleased to welcome former intern Karlie Thomas back to the All-Options team! As our new National Trainings Coordinator, they will coordinate our Pregnancy Options Workshops, including custom trainings, our online 6-week courses (register for our Fall training below!) and new self-paced virtual training options.
Not only did Karlie previously intern at our All-Options Pregnancy Resource Center, they also volunteered as a Talkline Advocate. We're excited Karlie has joined our small but mighty staff team and invite you to learn more about them by reading their bio here!
Pregnancy Options Workshop Alert!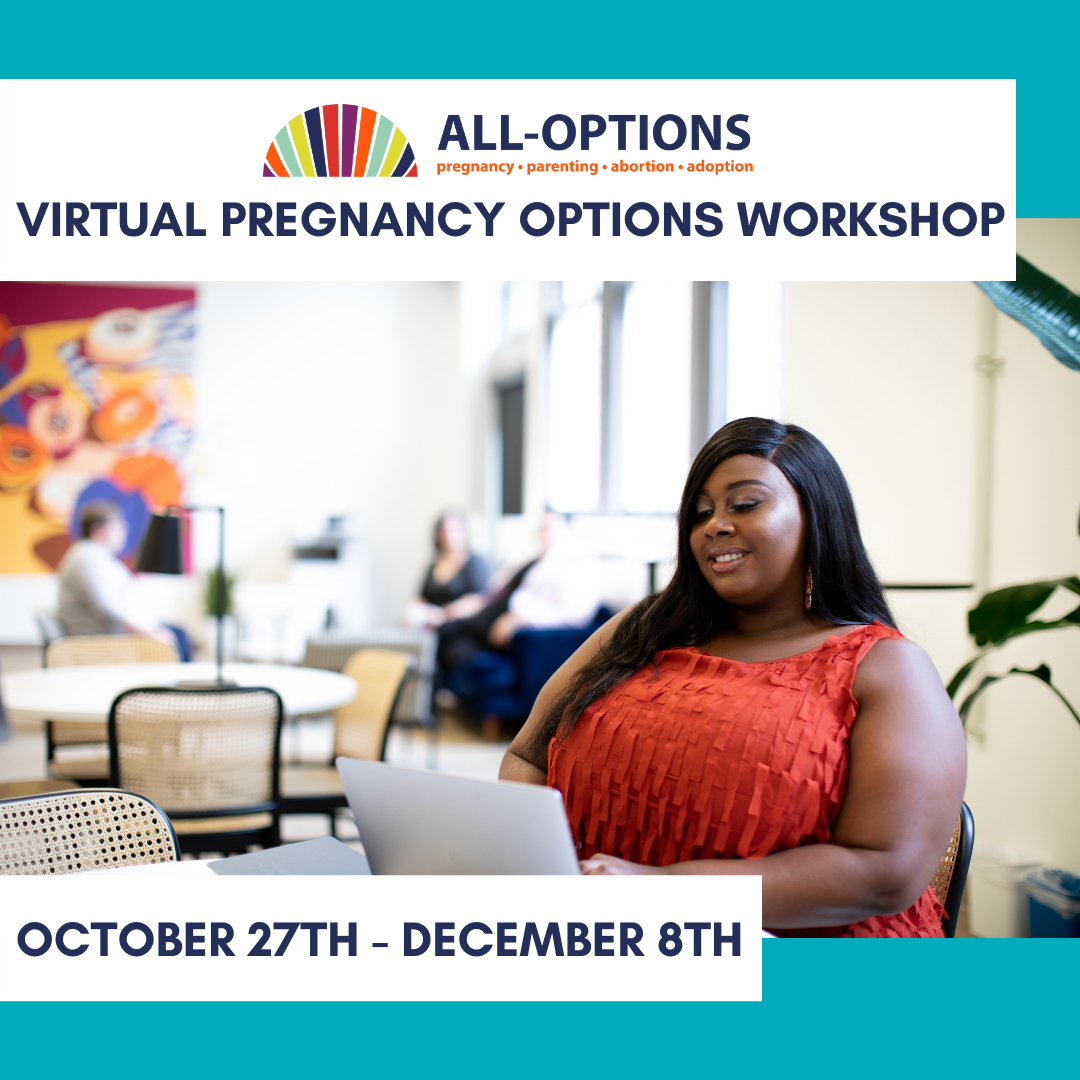 Our virtual 6-week Pregnancy Options Workshop returns on October 27th! If you work with pregnant people and want to strengthen your ability to provide judgment-free support for their decisions and experiences with pregnancy, parenting, abortion, and adoption, this is the course for you. Join a group of like-minded advocates, counselors, and educators from across the country to learn, explore your values and biases, and practice new skills in a supportive environment – all from the comfort of your home or office! Head over to our Eventbrite and register today!
#RallyForAbortionJustice, and…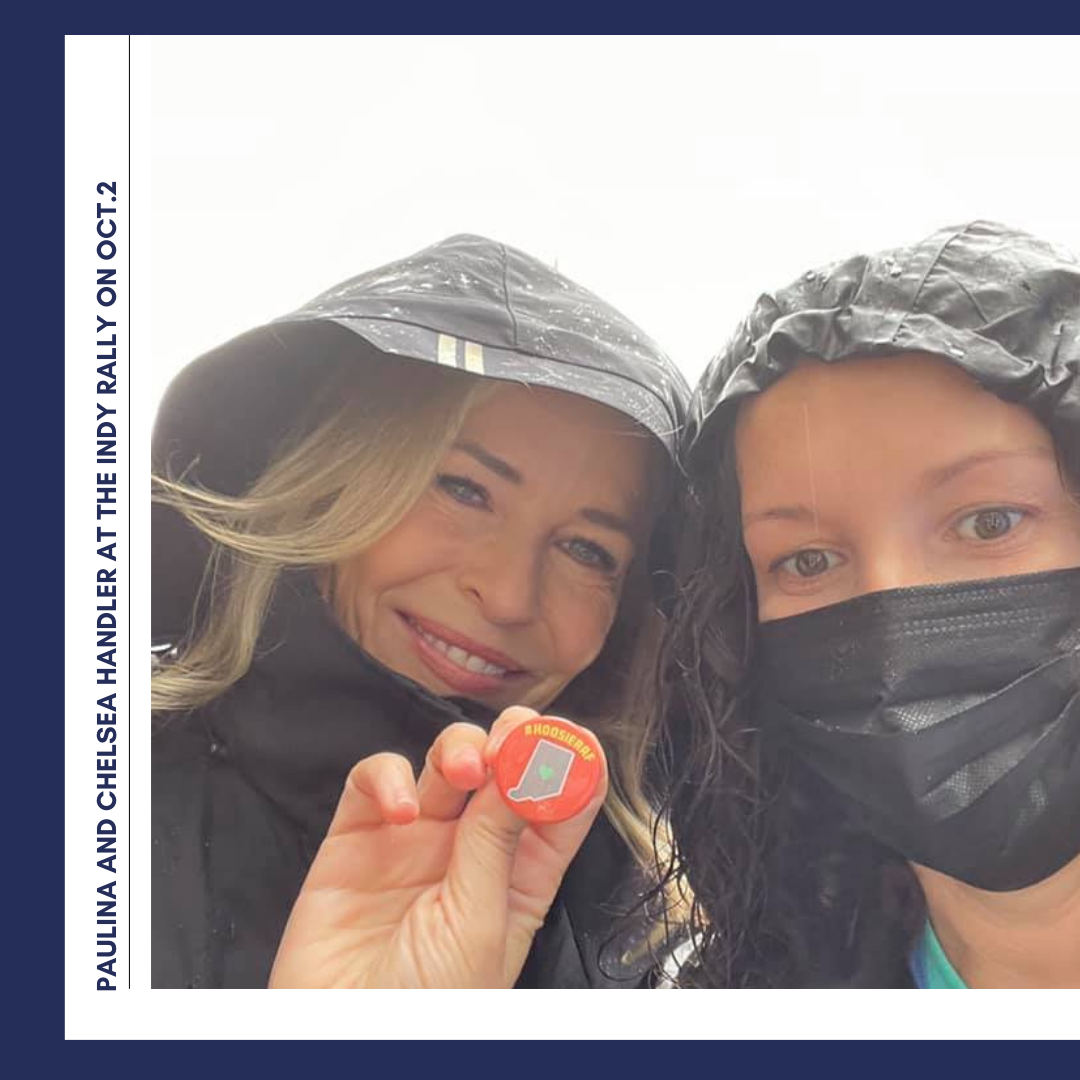 This past Saturday, All-Options joined Women's March Indiana and other organizations in co-hosting the Indianapolis rally for abortion justice, where our National Programs Manager, Paulina, and our board member, Harmony, spread the word about our Hoosier Abortion Fund. Paulina managed to snap a picture with Chelsea Handler (!!!) and give her one of our #HoosierAF pins — how cool is that?
Rallies are a great way to surround ourselves with people who share similar beliefs, and we invite folks to stay involved locally after rallying. This brings us to some exciting news for Indiana folks!
After pausing volunteer efforts in response to COVID-19, the All-Options Practical Support Network (PSN) is starting back up soon and we are recruiting volunteers now! PSN volunteers give rides and accompany folks to their abortion appointments, and more. Learn about the COVID-19 precautions we are taking and our volunteer screening process by checking out our volunteer packet here! Ready to apply? Fill out this form!
P.S. We desperately need volunteers in southwestern Indiana (Evansville area) and northeastern Indiana (Fort Wayne area), where patients have to travel farther to get to a clinic. If you're in these areas, please consider applying!
Recap: Diapers for Hoosiers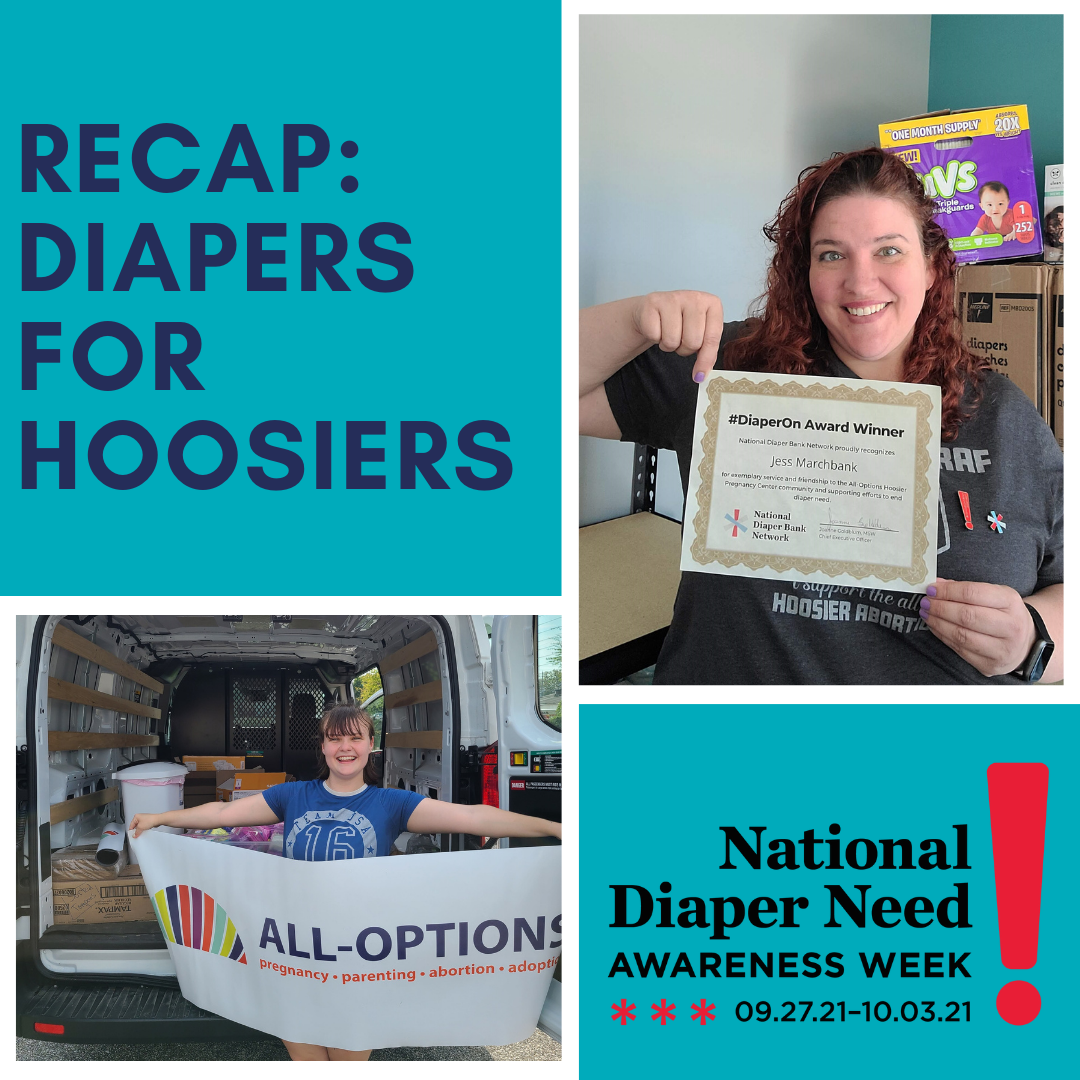 Last Thursday, we held our first mobile diaper distribution in Bloomington alongside the Bloomington Housing Authority. In just 90 minutes we served 25 clients, most of whom were brand new to the Hoosier Diaper Program! These folks left with diapers, period products, condoms, and knowledge that all-options support exists in their community. To learn more about our monthly mobile distribution days, check out this write-up by The Bloomingtonian!
We also want to take a moment to celebrate our Center Manager, Jess, who was awarded the Diaper On Award by the National Diaper Bank Network. We couldn't do this work without Jess' leadership (and your support) so make sure to show her some love on our Facebook post!
What We're Reading and Sharing on Social Media
If you're not following All-Options on Facebook, Twitter, or Instagram, you may have missed the posts that are keeping us informed and engaged. Here are some of our recent favorites!
Texas' near-total abortion ban is temporarily blocked by a federal judge, spurring the state to quickly appeal, The Texas Tribune (10/6/2021)
These People Are Telling Their Abortion Stories As The Supreme Court Prepares To Hear Its Biggest Reproductive Rights Case In Decades, Buzzfeed News (9/20/2021)
'Lifelong consequences': What happens to people who can't get abortions, NBC News (9/12/2021)
Gabrielle Union: The Hard Truth About My Surrogacy Journey, TIME (9/10/2021)
Why You Shouldn't Ever Ask Someone if (or When) They're Having Kids—Even if You Don't Mean Any Harm, Well+Good (9/9/2021)
The Texas Abortion Ban Is History Revisited, Ms.Magazine (9/1/2021)