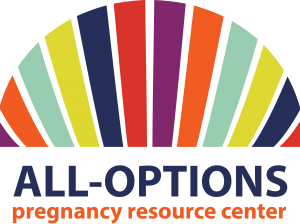 In May 2015, we opened the nation's first All-Options Pregnancy Resource Center in Bloomington, Indiana. All-Options PRC is an innovative new model for supporting people, increasing access to services, and mobilizing community members for reproductive justice.
All-Options PRC knows that the same person or family can need help with diapers, baby clothes, birth control, and abortion funding – all at the same time. We offer judgment-free and unbiased material support, peer counseling, and referrals to all kinds of local service providers.
Learn more at the All-Options PRC website – www.alloptionsprc.org – where Hoosiers can make an appointment or apply to become a volunteer, and everyone can make a donation!
While Indiana is home to the first All-Options PRC, we hope to bring this exciting approach to communities all across the United States in the near future.