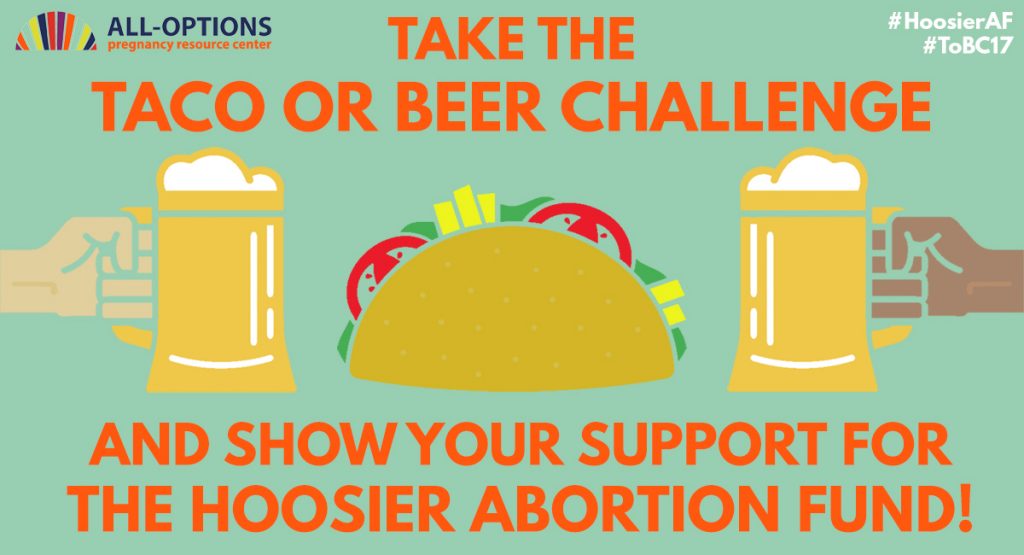 Calling all fans of tacos, beer, and abortion funding! It's that very special time of year when we can indulge in all three at once –  it's Taco or Beer Challenge season! Abortion funding is more critical than ever, so from now until September 15, the All-Options team invites you to join friends, family, and community to accept the National Network of Abortion Funds' Taco or Beer Challenge to raise money for our Hoosier Abortion Fund.
As you've seen in the news and may know from personal experience, Indiana has some of the most restrictive abortion laws in the country, making access to abortion a frustrating and daunting array of hurdles. The result? People seek abortions later in pregnancy, making the procedure more expensive and less accessible. When you add up the cost of medical care, transportation, child care, and other expenses related to obtaining an abortion in Indiana, the barriers can seem impenetrable.
That's why we started the All-Options Hoosier Abortion Fund, the first statewide community-based abortion fund in Indiana, helping Hoosiers access the medical care they need regardless of age, immigration status, income, or zip code. Are you ready to taco on and support this vital work? Let's go! It couldn't be easier to participate!
Whether you're located in Indiana or elsewhere, in just four simple steps YOU can be an abortion fund champion. Think Ice Bucket Challenge…except with tacos!
Step 1: Locate some delicious tacos or an icy cold beer (or both). Yum! Don't like either? Have some pie, pizza, whatever your heart desires!
Step 2: Say queso! Take a photo or video of you eating a taco or drinking a beer while making a donation to the All-Options Hoosier Abortion Fund.
Step 3: Post your photo or video to social media, then challenge at least 3 friends to participate!
Step 4: Tag All-Options in your posts on Facebook and Twitter and use #HoosierAF and #ToBC17 to join the ToBC community and spread the word.    
And for all you taco superfans out there, don't worry, you can participate as many times as you want over the course of the challenge!
Tacos or beer not really your thing? That's ok. You can still make a gift to the All-Options Hoosier Abortion Fund online anytime. 
So join us, will ya? Let's raise a glass (and a taco) to abortion access for all Hoosiers!