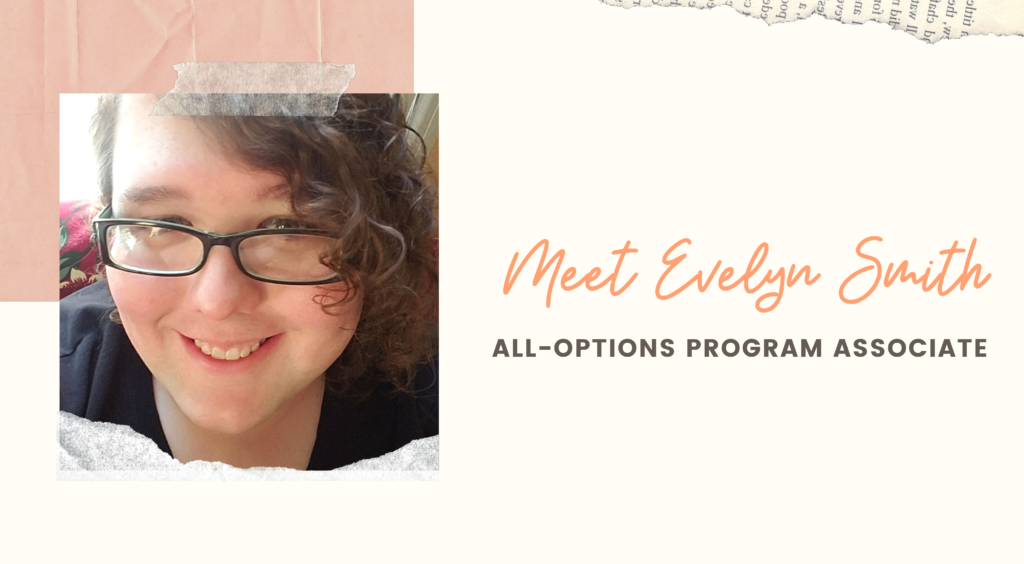 Let us introduce you to Evelyn Smith, All-Options' new Program Associate! We're thrilled to have Evelyn joining the All-Options team in this new role, where she'll be providing client services and logistical support for programs at the All-Options Pregnancy Resource Center, with a particular focus on expanding the capacity of the Hoosier Abortion Fund. Evelyn brings a tremendous amount of skill and passion to this position and we're so excited to be working alongside her to grow our programs and reach more people in need of All-Options support. Ready to meet Evelyn? Let's go!
Q: What are you most excited about in joining the team at All-Options?
A: Reproductive justice and bodily autonomy are really core parts of building communities and societies that value all people, and are really key principles in my work opposing misogyny. I've worked most of my professional life doing intervention and prevention of domestic and sexual violence, and I increasingly see bodily autonomy as a prerequisite to a world without these kinds of violence. Reproductive freedom also seems more and more to sit at a really important nexus of power in our current political climate: resisting fascism will require, among other things, resisting its attempts to seize control of people's reproductive power. 
I'm also excited to be joining an organization that provides really across-the-board services related to reproductive justice. Part of building communities that both protect people and hold them accountable to their actions is making those communities accessible to folks with children. I've been a part of the co-operative living movement long enough to see that communities that fail to support parents lose out on both wisdom and power, and I'm excited to be in a position where addressing that all-too-common shortcoming can be shared as both a personal and collegial passion.
Q: What are you most hoping to provide and bring to your new position?
A: As mentioned above, most of my professional work to date has centered the issues of domestic violence and sexual violence. My work with Middle Way House in Bloomington, Indiana saw me doing everything from crisis response in hospitals to direct service with folks whose experiences were years in the past to work both in and out of schools doing prevention by way of education and community-building. I hope to bring the lessons I've learned in that career to a new (albeit very deeply overlapping) field.
I also feel like I've learned really valuable skills for community-building, accountability, and mutual aid through my time in the cooperative living movement, and hope to bring those to bear in building the infrastructure for more supportive communities.
Q: What are some hobbies you enjoy?
A: I spend a lot of time doing administrative and support work for the co-op I live in, which I consider a weird kind of hobby. If you'd told 20-year-old me that some day I'd be treasurer of any organization, I would have laughed at you, but I actually find the economics of collective living really interesting! The 10¢/lb. difference in the costs of bulk garbanzo beans across suppliers doesn't seem like much, but it adds up when you eat as much hummus as we do.
As far as less work-y hobbies, I enjoy reading, especially feminist sci-fi and speculative fiction. I play a lot of board games and tabletop RPGs with my nerdy friends and loved ones, with a preference for artsy experimental and storytelling games. I also really enjoy watching movies, and have recently started playing viola again. I played all the time in high school (I was an orchestra nerd) but it's been a real joy to pick it back up as an adult, playing just for myself instead of anyone else's approval.
Q: What famous person would you want to play you in a movie about your life?
A: In all honesty, there aren't very many fat trans woman actresses out there, so it's hard to say! That said, I appreciate that Melissa McCarthy is fat and funny, and I like Jamie Clayton (though that might just be because sometimes I think I'd also be a super rad hacker lesbian with psychic powers in a slightly cooler alternate universe).