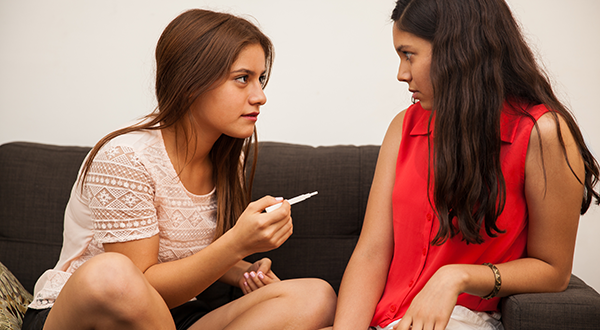 I hope you're sitting down, because I'm about to tell you something truly shocking — Indiana doesn't have the best track record when it comes to protecting reproductive rights. In fact, it has one of the worst! Unsurprisingly, Gov. Holcomb took our state another step back two weeks ago when he signed SEA 404 into law. SEA 404 will further restrict abortion access for Hoosier youth and create new obstacles for people to access all options when it comes to their health care.Currently, Indiana law requires minors to receive written consent from a parent or guardian before they can get an abortion. If a young person is unable to safely discuss their unplanned pregnancy with a parent, they can seek a judicial waiver from a judge instead. Under SEA 404, however, parents and guardians must be notified of court hearings or petitions, which would allow them to intervene in the judicial waiver process, violating the privacy – and potentially the safety of – Hoosier teens.
So, simply put: SEA 404 makes it impossible for a young person in Indiana to receive abortion care without any involvement from their parent, no matter how fractured, or dangerous, that relationship is. Here at All-Options, we're deeply concerned about how this shift in the law will impact each person's ability to navigate pregnancy, parenting, abortion, and adoption in a safe and confidential way.
In my role as the director of the All-Options Pregnancy Resource Center, I work with teens facing unplanned pregnancies on a regular basis. In fact, our Hoosier Abortion Fund, which helps people cover all the costs of an abortion, has supported teens who have made the choice to end their pregnancy. The teens I talk to have been through life events that most of us can only imagine. Many of them have dealt with domestic violence and sexual assault at home, making it impossible for them to talk to their parents about their pregnancy, let alone safely get consent for an abortion.
This work has taught me one very important thing: Age and maturity do not go hand in hand. The young people  I have had the pleasure of serving are mature and intelligent. In fact, I'd argue that they're more mature than the politicians putting regressive policies like SEA 404 in place! With the support of an adult they trust, they are more than prepared to make decisions about their future.
That said, the existing process to get a confidential judicial waiver so that you don't need a parent's sign off to get an abortion is already complicated and daunting for teens. They often have to miss school for legal appointments and hearings, and of course need legal counsel. And now, SEA 404 removes the confidentiality component of this process — which is the entire point of a judicial waiver process, and one of the key ways we can ensure our most vulnerable young people can safely access medical care.
SEA 404 is yet another barrier to intimidate and interfere with individual decision-making. And, it reeks of paternalistic policy-making that seeks to police young people at the expense of their health and well-being. Frankly, we've had enough of this!
At All-Options, we trust individuals to make the decision that's best for their lives and that includes access to all reproductive health services, regardless of age. We will continue to be here for young people in Indiana as they navigate the challenges of this detrimental new law.
– Shelly Dodson, Center Director at All-Options PRC