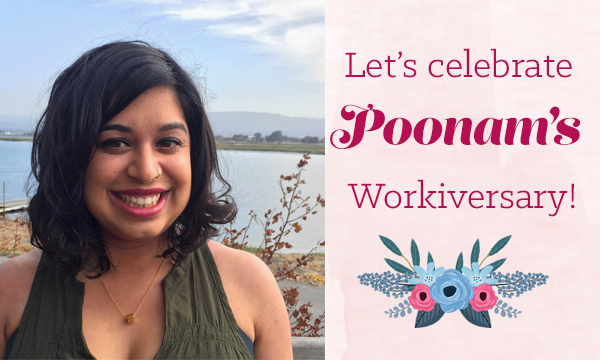 It's our Deputy Director, Poonam's, 1-year workiversary at All-Options – and we're so excited to celebrate! Poonam began working with All-Options as a board member, before joining the staff last year as our very first Deputy Director. She brings such organization and thoughtfulness to our work and makes incredible contributions to the development of our strategic plan, All-Options' values, and org culture. In the past one year, Poonam has helped All-Options evolve for the better, strengthening our programs and our work together as a team. We feel so lucky to learn and grow alongside her every day – and now it's your turn! Read on to learn a little bit more about Poonam, her role at All-Options, and her passion for this work.
Tell us a little bit about yourself! How did you come to work at All-Options?
I have been working with and supporting All-Options in some capacity for over 5 years at this point. When I first moved to the Bay Area from New York, my main work in the RJ movement was leading the Bay Area Doula Project, which aimed to increase access to and training of full-spectrum doulas, and All-Options (then Backline) was an organization we looked to often for guidance and shared vision. In my last year as a graduate student, I became All-Options' first MSW intern and worked on program development and evaluation. And then after I finished school, I joined the Board and served on it for 3 years (2 as Vice-Chair), before joining the staff last year. So All-Options has been a part of my heart and my movement home for some time.
What's your favorite thing about the work you do here?
I love being able to work with a team this smart, thoughtful, and compassionate. I love that I get to support really brilliant people in developing nuanced and comprehensive services, and in an organization that truly cares about how we're doing the work, and whether or not we're appropriately meeting people's needs. As an evaluation nerd, I love getting to work with our data and to tell a compelling story of the work we're doing.
Why is an all-options approach to reproductive health and support important to you?
As a full-spectrum doula, an all-options approach felt like a no-brainer. Of course it makes sense to support and make accessible all possible options and decisions for people who are pregnant; don't we want all people to feel like they are supported in living the lives they want? An all-options approach actually mirrors and responds to people's lives — we don't live single-issue lives, as Audre Lorde said, and this approach actually makes room for us to see and address the complex web of issues our communities face daily. And even within our movement, there are so few spaces really dedicated both to improving people's lives materially AND in changing the cultural conversation around pregnancy, parenting, abortion, and adoption.
Becoming a parent myself only strengthened these viewpoints for me — pregnancy in the United States is really challenging, because this isn't a society that has historically supported communities of color, poor or low-wage folks, gender expansive and queer folks, immigrants and refugees, in having the families they want. And our current administration is actively trying to limit and roll back any of the minimal supports that have been in place. As we know, there's nothing that resembles paid family leave in most states, very few states allow Medicaid to cover abortions, our safety net programs are woefully inadequate in providing enough money and goods to families in poverty, and there are a million different loopholes and conditions that prevent people from getting strong health and mental health coverage. That's without even accounting for the stigma and shame that people experience when navigating these oppressions while pregnant. Comprehensive, accessible, and judgment-free services and supports just don't exist for so many people, and no one should have to tackle the life-altering decisions that are related to pregnancy without them.
What's your best All-Options memory to date and what are you looking forward to as we grow?
Our name change and rebrand from Backline to All-Options! I was still on the Board at that time, but starting to consider transitioning onto staff, and I LOVED being a part of a team of staff, board, and volunteers all committed to making a strategic (and really smart) change. I also really loved the work that was done to shape our organization's values and to really operationalize them — what does it mean to act with care with our colleagues? What does it look like to be accountable to one another? — and have been really glad to expand on that work as we think about developing new programs rooted in our values. I'm excited for the advocacy work we're taking on this coming year, and sharing with our movement colleagues our All-Options toolkit (coming soon!) — the work we do isn't, as our National Engagement Director Jessica says, "the stuff of unicorns", and I'm looking forward to sharing our learnings and this approach in the spirit of generosity and collaboration.
Tell us something about yourself that might surprise your All-Options colleagues.
I'm an open book and a regular oversharer, so it's possible I've shared these before, but I can name any tune from the late 90s (post-1995) within a measure of the song starting. My brain seems to be holding on to a lot of trivia and pop culture from that time — probably from watching a lot of Pop Up Video — so that's a fun party trick. I did speech and debate in high school, mostly doing an activity called Prose and Poetry, where you'd perform a piece of literature using a small binder with the text in it as a prop. I was in an a cappella group in college and we did a Britney Spears medley that I LOVED.  I hate foods with a slimy texture — tomatoes, eggplants, and (gasp!) avocados.
What's your favorite thing to do for fun?
I like to bake and cook and feed people I love; I like to do yoga; I like to binge-watch tv and knit things for my loved ones. Current favorite tv shows include all the Shondaland shows (with a special place in my heart for Grey's Anatomy), The Good Place, Call the Midwife, and Younger.
If you could have any one person, living or dead, over to your house for dinner, who would it be and what would you make?
This is really hard; I have a lot of people I'd want to spend time with, and I am a Libra so this kind of decision-making almost always leads to second-guessing and regret! I think I would bend the rules a bit and throw a Desi dinner party — I'd invite Jhumpa Lahiri and Arundhati Roy and Hasan Minhaj and maybe Tan from Queer Eye and we could talk social justice narratives and immigrant experiences and 90s Bollywood over a meal of my mom's fish curries (which I haven't tried to make yet) and/or dosas.
If All-Options' mission were achieved and all ppl had the support and resources they needed for pregnancy parenting, abortion, and adoption experiences, where would you want to give more of your time?
I don't see myself moving away from racial justice work, and I think I'd like to do more intergenerational organizing within my own South Asian community. There's an organization called Bay Area Solidarity Summer that runs an amazing political action camp for young South Asian activists, and I have long wanted to volunteer with them, but currently have limited capacity as a parent to a toddler and someone who works full-time. I also think I'd spend more time exploring my spirituality as a place for my activism  — I'm exploring becoming a yoga teacher this year as a way to connect more deeply to my own spiritual practices and roots as a Hindu woman. I don't see myself waiting for All-Options' mission to be achieved to tackle these things, though — I'm hoping to plant some seeds for all of this work soon!