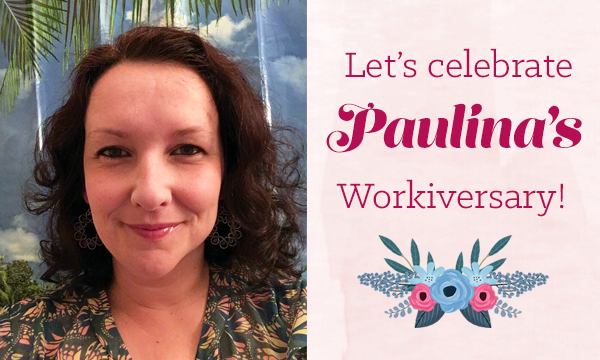 Today, we're celebrating our National Programs Manager, Paulina, on her first workiversary with All-Options! Paulina joined All-Options last spring as our first Community and Volunteer Engagement Coordinator – and has had a major impact on programs like the All-Options Talkline and our Hoosier Abortion Fund! She has expertly helped us reimagine and explore new avenues of our work at All-Options, allowing us to expand our reach in providing people with the pregnancy, parenting, abortion, and adoption support and resources that they need to live their best lives. We're so grateful for the compassion and wit that Paulina brings to our work together and we can't wait to see what she does in this next year ahead!
Tell us a little bit about yourself! How did you come to work at All-Options?
I had been working in direct service with mental health/substance use organizations for the last two years in Bloomington. Before that, I had worked at the National Abortion Federation Hotline for 10 years. Most of that time I spent as a hotline counselor. I was also a case manager. I moved to Bloomington to work on a PhD in Folklore. People may think that's not related, but it very much is. The study of folklore narrative is understanding how people use words and storytelling in their lives, and that is very much in alignment with what I do at All-Options.
What's your favorite thing about the work you do here?
I love teaching people peer-counseling. I also love working with the other staff members. It is the perfect environment for someone like me.
Why is an all-options approach to reproductive health and support important to you?
It is about restoring bodily autonomy to the individual, which is one of the most important aspects of healing trauma; singularly, community-wise, and societally.
What's your best All-Options memory to date and what are you looking forward to as we grow?
I think the last retreat was my favorite memory because we were all together and we were hammering out what the organization needed. I like that kind of work. I am most looking forward to all the possibilities that have opened up with having a virtual Talkline cohort! It is really taking us in an important and expanding direction.
Tell us something about yourself that might surprise your All-Options colleagues.
Not much, we're a pretty honest group!
What's your favorite thing to do for fun?
One of my favorite things here in Bloomington are the festivals – Lotus and Pride for sure.
If you could have any one person, living or dead, over to your house for dinner, who would it be and what would you make?
I would have Dion Fortune over. And make her some empanadillas with magic in them.
If All-Options' mission were achieved and all ppl had the support and resources they needed for pregnancy parenting, abortion, and adoption experiences, where would you want to give more of your time?
I would spend my time at farmer's markets selling home-made food for cheap or handmade witchy things.