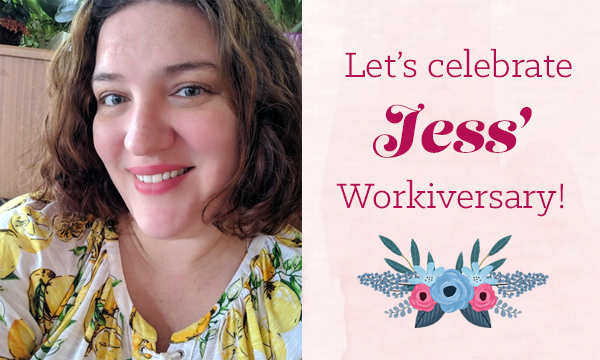 May is here, and what better way to usher in this sunny month than by celebrating Jess' 2nd workiversary at All-Options? Jess is our Center Manager at All-Options Pregnancy Resource Center (Bloomington, IN), but first joined us in 2017 as the Center Operations Coordinator. Jess manages the day-to-day operations at the Center, keeping our work running smoothly and efficiently, and also lends her skills and talents to overseeing our Hoosier Diaper Program, which supports local families in Monroe County obtain free diapers for their kiddos. Jess' enthusiasm for our work and commitment to supporting people in all of their pregnancy decisions and experiences make her a dynamic addition to our team – and we feel so lucky to work alongside her every day! Ready to get learn a little bit more about Jess? Let's go!
Tell us a little bit about yourself! How did you come to work at All-Options?
I had recently moved to Bloomington and had been staying home with my kids. I wanted to be connected with my community in a meaningful way but hadn't quite found the right spot for me. A friend sent me the job posting and within minutes, I was so excited I could hardly wait to apply. While my beliefs had long been aligned with those of All-Options, I had no idea that such an organization existed. I had already decided that, even if I didn't get the position, I had to get involved somehow.
What's your favorite thing about the work you do here?
I'm all about the people! I love connecting people to resources, ideas, and one another. I love introducing new people to the model of true all-options support, and seeing that awareness bloom as they realize that we're really here for them, no matter what.
Why is an all-options approach to reproductive health and support important to you?
Before I came to All-Options, I knew on some level how important it was to meet people where they are. But I had no idea how rare that is. It can be incredibly tough for people to navigate their own reproductive health decisions, let alone find resources that are judgment-free and unbiased. People deserve support, full stop.
What's your best All-Options memory to date and what are you looking forward to as we grow?
My favorite memories revolve around the people we talk to and support every day. I feel especially connected to our diaper clients since I interact with them so often. They love knowing they can come here, commiserate about various parenting wins and woes, and I love giving them that support.
Tell us something about yourself that might surprise your All-Options colleagues.
I feel like we all know each other pretty well at this point. My secret past life as a mime has already been revealed, but I'll hang onto a few surprises 🙂
What's your favorite thing to do for fun?
I try to have fun no matter what I'm doing, even if that means making a spreadsheet look really good. But in my down time, I love to feed people good food. I record internet karaoke (yes, that's a thing!) and try to channel my creativity into singing, songwriting, and taking care of my family.
If you could have any one person, living or dead, over to your house for dinner, who would it be and what would you make?
Questions like this make me so nervous! I usually blurt the first person to pop into my head (this time, for whatever reason, it was Helen Keller) but then invariably think of a dozen better answers. Instead of a person, maybe I'd like the TARDIS at my dinner table. I like options!
If All-Options' mission were achieved and all people had the support and resources they needed for pregnancy parenting, abortion, and adoption experiences, where would you want to give more of your time?
Prison abolition! Living wages for all! Universal child care! Universal health care! There's a lot of work to do.