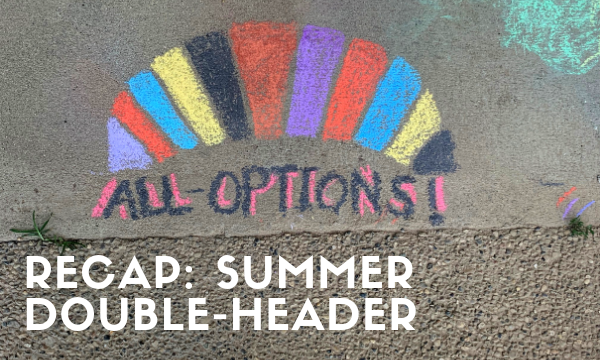 June 27th was an exciting day in Bloomington, Indiana – we had our first annual All-Options Volunteer & Client BBQ, followed by a drag-comedy-burlesque extravaganza hosted by our friends at The Back Door benefitting our Hoosier Abortion Fund! All-Options summer intern Charlotte* wrote this great recap of both events:
Summer is here, and with it comes bright sun, trips to the park, and barbecues! We got a chance to enjoy all three at the June 27th All-Options Double Header, starting with a yummy potluck in Bryan Park, with Talkline Advocate Matt Stonecipher as our grill master, serving up hotdogs, hamburgers, and vegan burgers for our staff and many volunteers. Sharing food is one of the oldest ways we have of strengthening bonds with our families, friends, and communities, and the All-Options potluck was no different. Over burgers and tasty salads and sides, we took another step towards strengthening All-Options' ties with the Bloomington community by hosting an event that was completely free and open to our clients, hopefully helping to pave the way towards a brighter and more connected future with our clients and their families.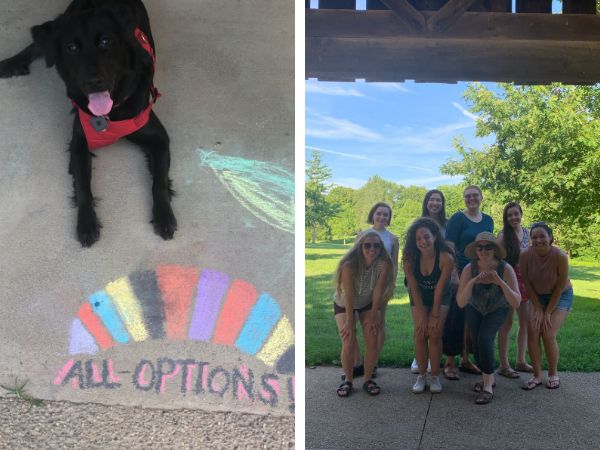 Following the potluck, the All-Options staff and interns reconvened at The Back Door for a burlesque show hosted by Roxy Bordeaux, raising funds for the Hoosier Abortion Fund. The program ranged from stand-up comedy to drag to moving performances about identity, featuring local performers Homo Rekher, Dwight Simmons, Veronica Lockhart, Ultraviolet, and Darryn Storm. The Back Door has teamed up with A-O before, such as in the HoosierAF drag show back in April, and their support is especially meaningful this month. June is the international awareness month for the LGBTQ community, and honoring the joy and grief of the complex history of queer and trans individuals in this country is a necessary part of making reproductive justice the all-encompassing movement it needs to be.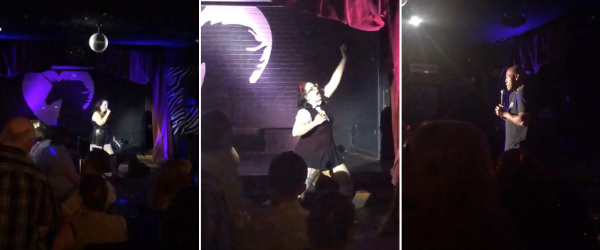 *Charlotte is supported by the Civil Liberties and Public Policy Program's Reproductive Rights Activist Service Corps program.