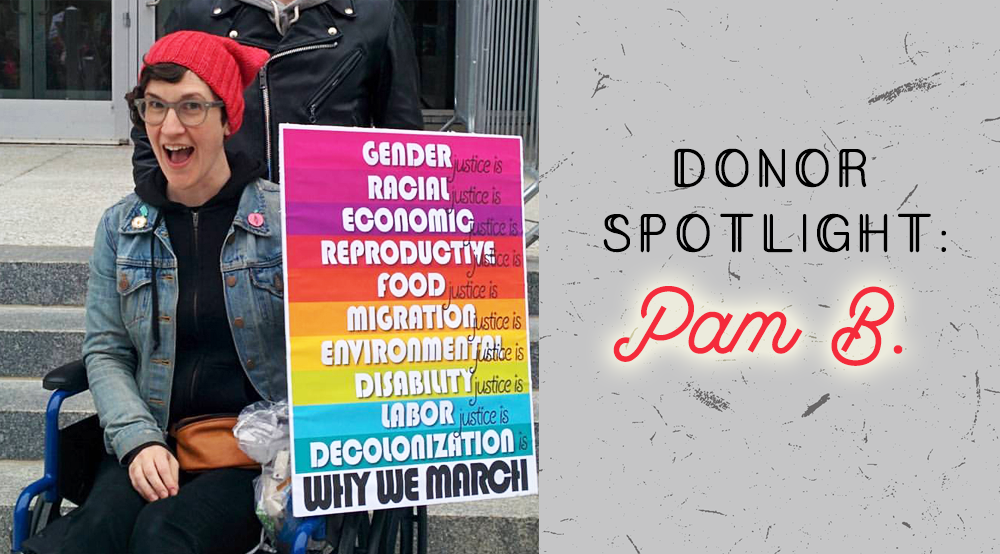 Our All-Options donors are some of the most incredible and inspiring people we know – and sometimes, they're also really cool. In this donor spotlight, we're featuring Pam B., a self-described, "knitting designer, university professor, and feminist killjoy." As an ongoing supporter of All-Options, Pam is also deeply committed to doing work at the intersections of reproductive, economic, and racial justices. Recently, she signed up to raise $1,000 for our Hoosier Abortion Fund during this year's Bowl-a-Thon campaign and she's well on her way! Read on to learn more about how Pam is merging knitting with abortion funding to meet her #bowl18 goal and find out more about why she shows up for All-Options time and time again.
1. How did you first learn about All-Options (then Backline) and what inspired you to make your first donation?
I first learned about All-Options (then Backline) in maybe 2006, when I was a grad student doing research on reproductive justice organizations in the U.S. Somewhere on a long-lost USB drive, there's a class paper where I wrote about Backline!
I made my first donation to the Hoosier Abortion Fund when I moved to Indiana in 2016, because it felt like a good way to start feeling connected to my new home. Mike Pence was on his way out the door at that point, but I knew that his regime had decimated communities throughout Indiana, and that my new hometown of South Bend had been a particular victim of his war on reproductive healthcare.
2. In your opinion, what is the most important work that All-Options does? What makes All-Options a unique resource or sets it apart from other reproductive justice organizations?
Reproductive justice centers those most impacted by reproductive injustice–like women of color, people living in poverty, disabled people, immigrants, and people who don't speak English–as a way to build a better world for all our families and communities. To me, there are two things that make All-Options extra special within that realm. One is how All-Options specifically centers trans and gender-expansive people, and organizes around the ways that all our various struggles for reproductive and bodily autonomy are linked. Another is the Faith Aloud clergy counseling program. Since moving to Indiana, I've met so many people whose decisions and priorities around their reproductive lives are integrated with their faith–I love knowing that Faith Aloud is there to help folks sort through spiritual concerns in a judgement-free way.
3. You recently created an individual fundraising page for the Hoosier Abortion Fund's Bowl-a-Thon fundraiser. Tell us what inspired you to take fundraising for HAF into your own hands and how you're motivating your friends and family to support abortion access in Indiana!
A lot of Hoosiers have to travel long distances to access abortion care. Even here in northwest Indiana, where it's less than 100 miles to clinics in Michigan or Illinois, the distance still makes abortion inaccessible for a lot of people. Abortion funds help people access the healthcare they need, and the Hoosier Abortion Fund does it in the context of a broad-based repro justice framework. That is awesome!
I can't bowl, but I can and do knit. And I design handknitting patterns too. So I'm cheering on the Bowl-a-Thon fundraiser from the sidelines, and motivating my friends to donate by offering them a free copy of my gender-inclusive knitting pattern collection, Handsome: Man Sweaters for Every Body. It's been pretty successful so far! I met my initial $500 goal within the first 24 hours, and now I'm working to get to $1,000.
4. How would you like to see All-Options grow in 2018 and in the following 5 years? What does All-Options look like to you in 2023?
I'm really inspired by how the All-Options Pregnancy Resource Center in Indiana works with local pro-choice organizations to help them re-envision their work within a reproductive-justice framework, and to build power and organize from that foundation. Does All-Options national work with organizations in smaller cities, towns, and rural areas? Because that seems like vital, necessary, exciting work to expand into the future!
5. Why are you moved to support All-Options?
Well, I've lived most of my life in and around Flint, Michigan, where it's extra impossible to separate economic, racial, environmental, and reproductive justice. I have never, ever hesitated to recommend the All-Options Talkline to folks in Flint, because I know that the peer support they get will be able to take those complexities into account. Access to that kind of support is rare and precious, and lifesaving, and that's why I'm moved to support All-Options.
6. Tell us a little bit about you – what you do in the world, what your hobbies are, whatever you'd like to share. What's one things others would be surprised to learn about you?
Mostly, I knit. But I also play several instruments, and I have a wiener dog named The Crushinator. Also I'm 39 years old, and I just got my very first houseplant. I'm terrified of killing it! Like how are you supposed to know how much water it needs if it doesn't bark at you?
7. What other movements, causes, and/or organizations are important to you and why?
I do a fair bit of prison abolition work, which is closely related to the fight for reproductive justice. Supporting public access to the arts is important to me too, because music was a lifeline for me as a kid, and for so many people I knew. And I'm blown away lately by the radical disability rights activism of organizations like ADAPT. Again, all of these struggles are marvelously interlinked, and it's always energizing to make connections between them.
8. If you could have anyone over to your home, living or not, who would it be and what would you make them for dinner?
Ooh, I would like to have dinner with Prince Rogers Nelson, just once. I'd prepare a massive dessert buffet, because I hear he loved sweets. Or if Ursula LeGuin and Audre Lorde came over, I would make them my famous baked mac & cheese, followed by a long night of conversation and cookies and wine. I'm not sure how well they'd get along with Prince, but there's not much my cookies can't smooth over.