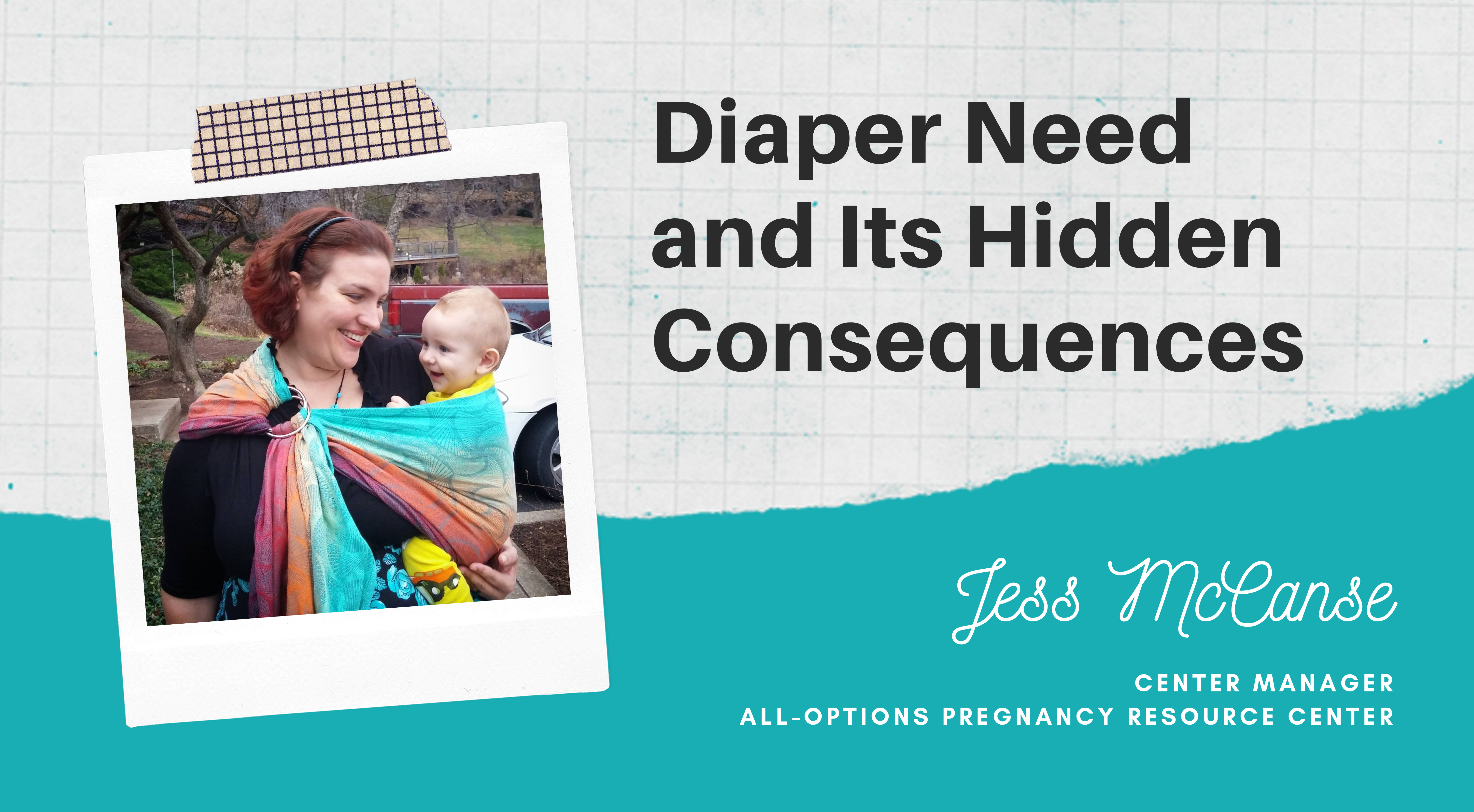 "If I can't provide enough diapers, my child will get kicked out of daycare."
"I often have to choose between paying my electric bill or buying diapers for my baby."
"I ran out of diapers and couldn't afford more, so I used some old newspapers."
As the Center Manager at All-Options Pregnancy Resource Center, these are some of the heartbreaking statements I hear from parents in our community who are struggling to afford diapers for their little ones. Diaper need is a crisis affecting 1 in 3 families in Monroe County, but it's not something a lot of folks talk openly about because of the shame and fear that comes with not being able to provide enough diapers for your children. 
I'll be honest, before I began working at the Center, the magnitude of the diaper gap wasn't exactly on my radar. I'm a parent of two great kids, so I know diapers are expensive – and let's be frank, no one can forget that diapering a newborn baby costs upwards of $70-$100 per month! What I wasn't aware of was how many of my neighbors lived with the daily reality of not knowing how they'd afford the next day's diapers, weighing the expense against other basic necessities, like food and rent. All around us, every day, a third of families are struggling to keep their children clean, dry, and healthy – and most of the rest of us have no idea.
Diaper need has a ripple effect on families that can impact health, employment, education, and even social relationships. Children who don't have enough clean diapers are at greater risk of developing rashes and infections, and are frequently unwelcome at daycare programs where the rule is usually BYOD, "bring your own diapers." If parents can't access childcare due to a lack of disposable diapers, they are less able to attend work or school on a consistent basis, leading to decreased economic stability and a continuation of the cycle of poverty. 
The expense of diapers is overwhelming for most families, but for those struggling to make ends meet, the monthly cost is crushing. Here's a not-so-fun fact: state and federal programs don't provide coverage for diapers, so there's no assistance through SNAP or WIC to pay for this basic necessity. And while some politicians, like State Representative Carey Hamilton (D-Indianapolis), put forth legislative efforts to make diapers tax-exempt, these bills repeatedly fail to get support from other policymakers. The result? Local families are drowning trying to keep their children in fresh diapers.
As I greet families enrolled in our Hoosier Diaper Program each diaper pick-up week, I think about the challenges they face and meet their concerns with compassion and support. I'm grateful that our Hoosier Diaper Program exists, and that we can provide monthly diapers, wipes, and pull-ups for more than 130 children each month – but I wish it didn't have to. I wish these resilient families could be fully supported by a system that works, and that guarantees them access to the essentials they need to lead happy, healthy lives. 
This problem isn't going to be solved by just one diaper program, or by just one voice; it will take many. And so I urge you to learn more about the invisible burden of diaper need and its many consequences affecting so many parents and children in our community. Give generously to the efforts of your local diaper program and support the policymakers advocating for change. Together, we can shrink the diaper gap and give more families the resources and support that they need to truly thrive.