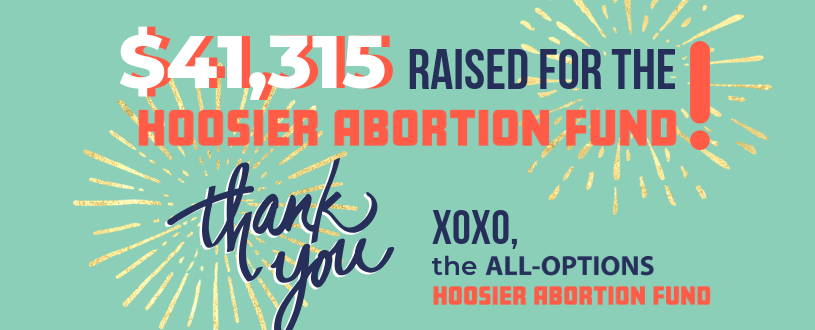 What has $41,315, over 400 recent donors, and is increasing abortion access across the whole of Indiana? It's the All-Options Hoosier Abortion Fund, of course! Every year, All-Options' Hoosier Abortion Fund takes part in the National Network of Abortion Funds' spring campaign, Bowl-a-Thon, which encourages people across the country to fund abortion and build collective power by increasing abortion access in their communities.
And this year, because of our supporters in Indiana and beyond, we had our most successful Bowl-a-Thon season yet, raising over $40,000 for the Hoosier Abortion Fund!
What does $41,315 look like in action?
A 25% increase in our annual abortion funding budget! We'll be able to financially support over 160 Hoosiers in accessing the abortion care they need in 2019-2020.

Increasing the number of people who can receive support from the Hoosier Abortion Fund – an additional 40 folks this coming year! – means growing our statewide Practical Support Network, which provides Hoosiers with rides to and from their appointments.

Raising more money than ever for the Hoosier Abortion Funds demonstrates our community's support for our fund, and makes state legislators take notice as we continue to fight against anti-abortion policies that interfere with the ways we build our futures and our families.
With donors showing up for us across 33 states and the District of Columbia, and community groups holding incredibly successful fundraisers for us in Bloomington, Richmond, and Lafayette, our triumph was a group effort! Look at how you came out to support the Hoosier Abortion Fund!

Indy Feminists held a Tattoo Flash Day that brought in people from across the state for beautiful feminist tattoos, where 50% of each sale went directly to our abortion fund. Check out this incredible presence of folks in Richmond waiting their turns to show up for abortion access and show off some new ink!

Our friends at Younger Women's Task Force of Greater Lafayette held their THIRD annual Eat Tacos, Fund Abortion fundraiser for the Hoosier Abortion Fund and it was a huge hit! The entire price of each ticket, which included a plate of mouthwatering tacos, an icy margarita, and a raffle ticket, went directly to the Hoosier Abortion Fund! Holy guacamole!

At home in Bloomington, we celebrated two months of Bowl-a-Thon fundraising with our #HoosierAF Drag Show Benefit which brought together our local reproductive justice community to enjoy fierce and fabulous performances by Luxerio Amour, Miss Noami Betta, Eny DeBeauté, Homo Rekher, and Eden Sitayu! This was our most well-attended and successful local event for the Hoosier Abortion Fund in its four years and we're so incredibly moved by all of B-town coming out to fund abortion and build power with us!
It takes a village to fund abortion access, especially in a red state like Indiana, and this year's Bowl-a-Thon campaign for the All-Options Hoosier Abortion Fund proved that more than ever. We're so grateful for supporters across Indiana and around the whole country who showed up to prove they're #HoosierAF! Thank you for helping us ensure our neighbors have support for receiving the health care they want. We love doing this work alongside you!