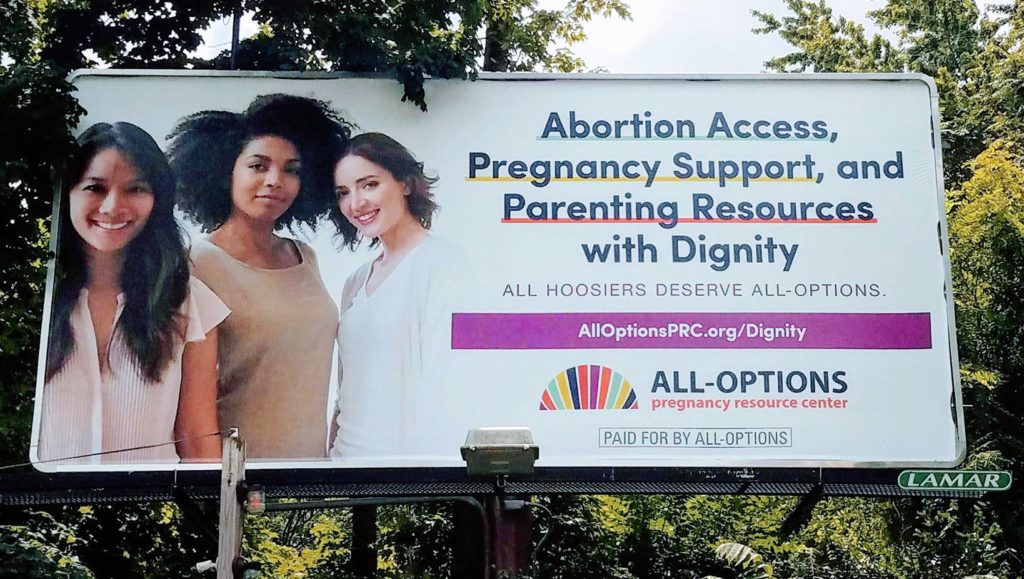 At our All-Options Pregnancy Resource Center in Bloomington, Indiana, we're supporting people at every stage of their pregnancy and parenting journeys with abortion funding, monthly diapers for struggling families, and volunteer and advocacy opportunities. With so much to offer our neighbors, spreading the word is vital and we just launched a giant campaign to connect more Hoosiers to our work!
At the end of June, we placed 7 billboards in Bloomington and Indianapolis to put All-Options PRC on more people's radar – and the response has been incredible! People across the state have reached out to us to show support for our presence in Indiana, where Hoosiers face some of the most punitive anti-abortion and anti-family policies in the country. Increased visibility means we'll be able to be reach more people who need our radical model of full-spectrum support and will allow us to mobilize a larger constituent of progressive people eager to build a more compassionate Indiana.
Coupled with a high-impact online advertising component, which includes targeted posts and ads on social media and search engines such as Google, it's our hope that the billboards campaign starts a conversation about what the future of abortion access, pregnancy support, and parenting resources can look like – all under one roof.
See one of our billboards out the wild? Snap a pic of you with it and tag us on Facebook, Twitter, or Instagram!