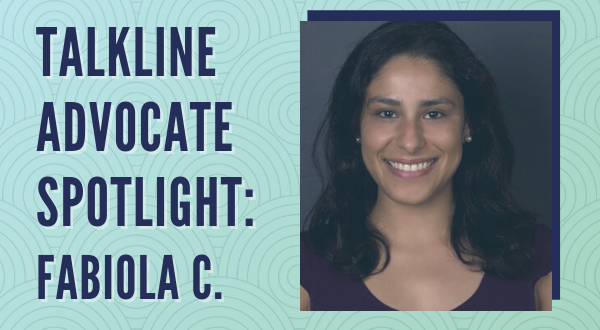 Calls to our national All-Options Talkline are answered by a team of amazing volunteers who are passionate about supporting people through all their pregnancy, parenting, abortion, and adoption experiences. In this column, we're talking to Fabiola, who has been a Talkline Advocate since Spring 2019. We are excited to hear all about her journey and experience, and learn more about what brings her to All-Options! Read on to learn more about Fabiola and her work on (and off) the Talkline:
How did you first learn about All-Options and what inspired you to become a volunteer on the Talkline?
I work in the reproductive health, rights, and justice movement, so I know about the incredible work that All-Options does through my job. I was inspired to become a volunteer because I really craved to be in touch with people whose lives were directly impacted by an issue that is so dear to my heart: reproductive justice. I also wanted to witness first hand how effective or ineffective are the policies that I advocate for as well as the impact of the terrible anti-abortion laws that I attempt to eradicate. This experience has delivered that and so much more.
How have you grown or changed during your time on the Talkline? Has being a Talkline Advocate affected how you navigate the world?
The Talkline has been a constant learning experience. I remain challenged by each call, almost two years after starting this program. I like to think that I am a better listener and a more compassionate person. I also believe it has made me a better advocate because it has challenged my assumptions and given me a better understanding of the complexities of people's feelings and situations. Being on the Talkline has given me the skills to hold open conversations with anyone who I come across. I think I am a better, more fulfilled person. I am so thankful for this experience.
This past year has been filled with so much difficulty and loss. How have the events of 2020 influenced your experience on the Talkline? And where have you found inspiration or hope?
The pandemic has upended all of our lives, including those who call us. The desperation is more significant; the existential questions feel a little deeper. Being a peer counselor during the pandemic has renewed my commitment towards fighting for reproductive justice. I am inspired by the courage and tenacity of our callers as well as the commitment of my fellow advocates. While things feel so much harder right now, I am also encouraged by the bravery and work of so many of us who want to change the course of the nation and this planet.
We'd love to get to know you and how you show up in the world. Tell us a little bit about yourself!
I was born in Peru and immigrated to the United States when I was thirteen years old. From an early age, I wanted to make the world a better place. I am really lucky that I get paid to do just that, as an attorney at the National Health Law Program. I work mainly on issues involving reproductive and sexual health as well as telehealth and their intersection with Medicaid. My purpose is to defend the rights of women and girls and those who identify as such. In my free time, I like hiking with my husband, reading books in English and Spanish, and listening to music and podcasts. I also like to dance, primarily at home and in my PJs.
When you think about a liberated, reproductive justice future, what comes to mind?
I think about happy communities – where people have the resources and the freedom to design the life they want [on] their own terms. It's peaceful, it's beautiful; it's melodic. It smells like fresh bread out of the oven.
If All-Options' mission were achieved and all people had the support and resources they needed for pregnancy, parenting, abortion, and adoption experiences, where would you volunteer your time?
I would love to work with young people. I would either be a mentor or volunteer at a youth facility. I think it is so critical to offer support and compassion to children and adolescents. I also think they would keep me on my toes.