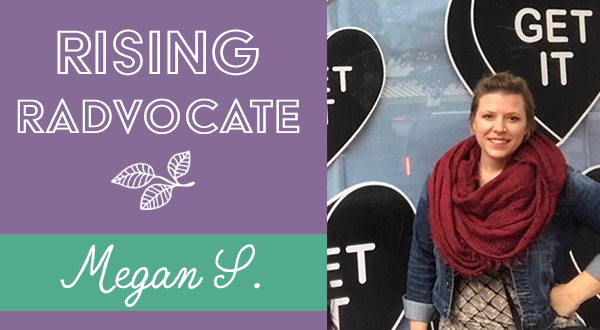 After a year and a half of providing compassionate, judgment-free support to our Talkline callers, All-Options recently said goodbye to one of our Indiana-based Talkline Radvocates, Megan Simmons. Trading the beauty of Bloomington for the bustle of Philadelphia, Megan recently began a new position as a Research Scientist at Widener University's Interdisciplinary Sexuality Research Collaborative – and we're so incredibly excited for her!
Through her work at All-Options, Megan cultivated a sense of community both with other advocates and with callers:
"Many of my callers expressed feeling isolated in their experiences. Being able to hold an open and supportive space for them was incredibly powerful because for many callers, the hotline is the only place their experiences are acknowledged and validated. By giving people space to share their experiences and hopes and fears without judgment, the Talkline creates a community of empathy and support, and lets people know they are not alone."
Volunteering for the Talkline also overlapped with Megan's doctoral research in Public Health at Indiana University. Learning how callers spoke about their reproductive experiences and decisions allowed her to identify common themes in their journeys, providing even more nuanced support to each person who called. She notes:
"Part of my role with the Talkline and All Options is working with our call logs, which means that in addition to taking calls, I read through hundreds of pages of notes taken by our advocates. One of the things that always strikes me is that so many callers have internalized the message that there are "good" and "bad" abortions. The continued divisiveness of abortion rhetoric in our country prioritizes fetal anomaly or rape as valid reasons for having an abortion, which delegitimizes and erases the other very complex and nuanced perspectives of people for whom pregnancy or parenting is not desired. It really hits home the need to fight stigma and radically change the way we talk about abortion."
"As I began fielding calls and talking to women and their families, it became apparent very quickly that the field of Public Health often doesn't acknowledge the complex situations that many people face while making pregnancy and parenting decisions. Working on the Talkline has made me more empathetic and vocal about reproductive justice in every part of my life, including my research."
Megan's investment in creating supportive spaces for people to share their reproductive experiences and decisions runs deep and we're so lucky to have had her share her compassion with so many of our callers over the last 15 months. Our National Talkline Manager, Rachel Ronquillo Gray further reflects on Megan's tenure as an advocate here:
"It has been such a pleasure getting to know Megan over the past couple years. She has been a consistent source of deep empathy and support for our Talkline callers and her fellow Radvocates. After the results of the last election rolled in, Megan held a gathering at her house for the Radvocate community to talk about ways they could take action in defense of reproductive rights and justice. I could always count on Megan to hold space for her fellow advocates in a way that was unique to her: deeply compassionate, armed with intellect, and geared toward action (even if that action was simply allowing yourself to feel sad).
In a lot of ways, Megan's research into our call logs feels like a true labor of love for our callers and for our community. What she has found in the logs that every Radvocate fills out after every call proves what we know anecdotally: that the emotional work the Raddies do on the Talkline is vital and unparallelled. Because of Megan's research, we know that the Talkline and our Radvocate community create a necessary and urgent space in the reproductive health, rights, and justice movement that allows people to simply be heard without judgment. It seems so small and simple a thing, but it works wonders to break down stigma, acknowledge the intersectional oppressions that affect so many pregnant people, and create a world where people can choose to create the families they want to create without fear or barriers.
Though Megan has moved to Philadelphia and we miss her a bunch, she's going on to do crucial work in public health and the reproductive health, rights and justice movement. It's been an honor to work alongside her for these short years — we love you, Megan!"