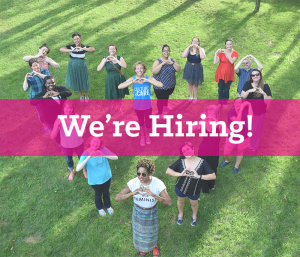 Position Description

All-Options is hiring a new Project Coordinator for a grant-funded collaborative research project with Ibis Reproductive Health. The Project Coordinator (PC) will be primarily responsible for coordinating activities related to: 1) research on the impact of remote non-medical abortion support on the experiences and attitudes of people seeking abortion care, including callers to our national Talkline, and 2) collaborations that allow for the expansion of safe, effective, remotely-provided abortion support that is responsive to the context of the COVID-19 pandemic. Note: We are defining non-medical abortion support here as abortion doulas, handholders, and hotline/talkline staffers, who offer emotional, informational, logistical, physical, and/or spiritual support to clients before, during, and/or after an abortion.
All-Options is a nationally distributed organization with employees in California, Texas, and Indiana. The PC will report to our National Programs Manager (NPM), who is based in Indiana; the PC is a fully remote position and applicants can be based anywhere so long as they are located within approximately one hour of a major airport.
The PC is a non-exempt full-time position (35-40 hours/week), with a wage of $22/hour. Work schedule is generally Monday-Friday with some flexibility in hours and regarding time zones. Benefits include generous paid time off, a simple IRA retirement fund with employer match up to 3% of annual salary, and an employer-funded Health Reimbursement Account of up to $437.50/month for medical, dental, vision, and other health premiums and expenses. As a remote position, the PC will be provided with a computer (including a monitor, keyboard, etc) and eligible for monthly telephone and internet stipends. Note: This position is grant-funded for 18 months; continuation in a similar role may be possible if funding allows.
Key Responsibilities in this Position
Research Project Coordination (approximately 80% of the position):
Work with All-Options and our partner, Ibis Reproductive Health's research team to develop protocols for recruiting and interviewing Talkline callers regarding their experiences of remote support before, during, and after having an abortion 

Train, support, and encourage volunteer Talkline Advocates in appropriate recruitment of callers to participate in the research project

In partnership with the research team, develop systems for data collection and analysis of callers' perceptions of support, quality of abortion care, and abortion attitudes   

Assist with identifying, recruiting, and supporting participants for both a project advisory committee and for ongoing collaboration and convening of non-medical abortion support providers

Coordinate all aspects of four (4) virtual convenings of non-medical abortion support providers (both individuals and organizations) over an 11 month period  

Coordinate communication and feedback between research team and across advisory board, abortion support convening participants, and Talkline Advocates

Provide project-related administrative support to the research team as needed
Talkline Program Coordination (approximately 15% of the position):
In partnership with the National Programs Manager, ensure communication, support, and feedback with Talkline Advocates throughout the research process

Support the National Programs Manager in regularly reviewing Talkline call logs to ensure accuracy and completeness, and ensuring up-to-date records and volunteer contact info in the central All-Options databases

Provide administrative support for advocate meetings, Talkline shift scheduling, and other community-building events
Other (approximately 5% of the position):
Participate in regular 1:1, research team, and All-Options staff virtual meetings 

Represent the project through networking and attending relevant conferences or trainings (remotely until/unless some travel is possible post-pandemic)

Act as an ambassador for All-Options and our judgment-free, open-hearted approach to pregnancy, parenting, abortion, and adoption
Who We are Looking For

We are looking for someone who is passionate about reproductive justice and abortion access, understands the importance of non-medical support for people seeking abortion care, and can organize data and people with thoughtfulness and clarity. The ideal candidate is detail-oriented, responsible, engaging, perseverant, and collaborative while also able to work independently. Must be able to hold confidential information and function effectively in a nationally distributed and virtually connected organization.
While no candidate will possess every qualification, the following are highly desired:
Demonstrated commitment to reproductive, economic, and racial justice

At least 1 year of experience coordinating or implementing projects, including organizing multi-stakeholder meetings and presentations, effectively coordinating diverse teams through virtual meetings and written communications, and systematically tracking and documenting necessary data and information

At least 1 year of experience providing non-medical abortion or other pregnancy support (as an advocate, talkline counselor, doula, or other care provider)

Proficiency with remote-working systems including Asana (or similar project management platform), Google Apps, and Zoom

Strong networking and communication (verbal and written) skills, especially in a remote or virtual setting

Cultural awareness and humility, and the ability to build positive relationships with diverse people 

High level of emotional intelligence, compassion, sense of humor and fun, and capacity for giving and receiving feedback
Physical demands:
This position requires the ability to operate a computer for extended periods of time, and to communicate by telephone and video conference. There may be occasional travel within the United States, post-pandemic. The physical demands described here are representative of those that must be met by an employee to successfully perform the essential functions of this job. Reasonable accommodations may be made to enable individuals with disabilities to perform the essential functions.
To Apply:
Please complete this online application and upload your resume and cover letter. You will need to use or create a Gmail account in order to submit your cover letter or resume. If this presents a barrier, please email us at hiring@all-options.org. 
Interviews will be conducted on a rolling basis beginning first thing in January. Final deadline to apply is January 22, 2021, with a desired start date of February 16th. We promise to keep you posted on your application status. No phone calls, emails, or social media inquiries please. 
All-Options is an equal opportunity employer. We believe a diverse workforce is critical for reproductive justice and an asset to our organization. People with lived experiences with pregnancy, parenting, abortion, and/or adoption, people of color, people with disabilities, and those who identify as transgender, gender expansive, or LGBTQ are strongly encouraged to apply.