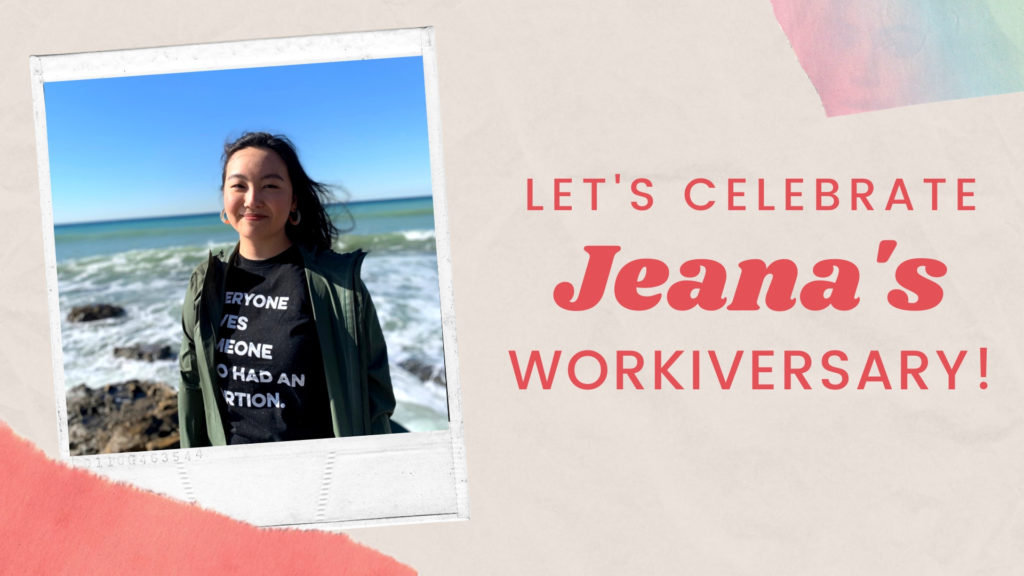 It's our National Engagement Coordinator, Jeana's, workiversary, and we're thrilled to be celebrating the 1-year mark of her creativity for graphic design and social media savvy (among her many other talents) at All-Options! Jeana has been a fantastic addition to our team and we're so grateful for the passion she brings to our work together each and every day. Ready to learn a little bit more about Jeana and her role assisting with fundraising and communications at All-Options? Read on!
What's your favorite thing about the work you do at All-Options?
I love how our work doesn't shy away from nuance and fraught spaces around pregnancy experiences and decisions. It feels rooted in people's lived experiences.
Why is an all-options approach to reproductive health and support important to you?
I think there's really no other way to approach reproductive health, rights, and justice. Pregnancy, parenting, abortion, adoption, pregnancy loss, infertility, etc… these experiences and decisions (and the feelings that come with them) are often interconnected. An all-options approach honors that fact.
What's your best All-Options memory to date and what are you looking forward to as we grow?
Our staff retreat this past fall was wonderful – being on a distributed team, it's great to have everyone in the same room! I'm looking forward to seeing all of our programs expand as we grow, especially our Talkline and our Faith Aloud clergy counseling line. They are one-of-a-kind resources that we all deserve access to.
Tell us something about yourself that might surprise your All-Options colleagues.
In college, I played fiddle and sang harmonies in a Texas country artist's band.
What's your favorite thing to do for fun?
I love to travel, whether I'm seeing a new country, visiting an old friend in another state, or just driving to the beach for a weekend. I like every aspect of it, even just the planning and packing.
If you could have any one person, living or dead, over to your house for dinner, who would it be and what would you make?
Right now, I would have Bowen Yang, who co-hosts one of my favorite podcasts and is a new SNL cast member, over for dinner. He seems like the right combination of hilarious, cool, and approachable. I'd make spaghetti carbonara.
If All-Options' mission were achieved and all people had the support and resources they needed for pregnancy parenting, abortion, and adoption experiences, where would you want to give more of your time?
I think I'd give more of my time to advocating for homeless people and tenants, especially here in southern California.