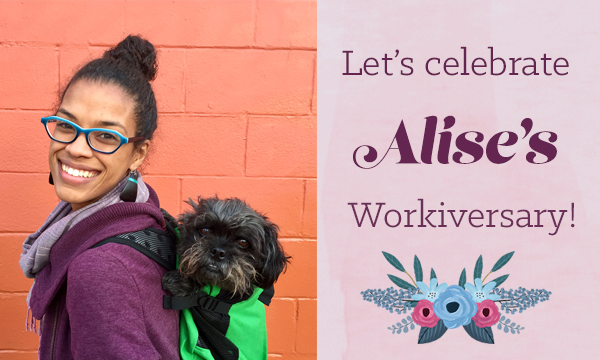 It's our National Operations Manager, Alise's, 1-year workiversary at All-Options – and we're so excited to celebrate! Alise brings such care and order to our nationally distributed All-Options team and makes incredible contributions to the development of our All-Options values and org culture. We're so very lucky to work alongside her (and sometimes, her pup, Zoey, too!) each and every day. Read on to learn a little bit more about the very fabulous Alise!
Tell us a little bit about yourself! How did you come to work at All-Options?
When I returned to Oakland after teaching in Fiji, I knew I wanted to work somewhere that was creating social change. That led me to CoreAlign, where I was able to work with people across the reproductive health, rights, and justice movements; and that's also where I first learned about All-Options. I remember learning about the center in Bloomington when it first opened (2 years ago!) and feeling really intrigued by the all-options approach. When this position that aligned so well with my skills and interests opened up, I was thrilled.
What's your favorite thing about the work you do here?
That's hard to say, because there are so many things I enjoy about working here! One thing I love is the consistency in our external mission and programs and our internal organizational development. When considering any new practice or procedure, there is always conversation about how it fits in with our values and the culture that we're creating.
Why is an all-options approach to reproductive health and support important to you?
The all-options approach recognizes that whole people are making reproductive decisions, and it creates space for all of their experiences and feelings. This is critical because it centers the people making decisions, rather than focusing on dichotomies and debates. Within the all-options approach, there's a core understanding that one size does not fit all. I appreciate the All-Options commitment to recognizing and affirming that there are many ways to build and support families.
What's your best All-Options memory to date and what are you looking forward to as we grow?
My best memory to date is last month's staff and board retreat in Oakland. Because our team is distributed across the country, it's pretty special when we're all in the same place. 2017 has felt so intense already, and having the retreat was a good reminder of where we are in our work and what an awesome team we have moving the work forward. I left the retreat feeling energized and excited about all the possibilities that the future holds for All-Options. We're growing thoughtfully, and I'm looking forward to more team experiences.
Tell us something about yourself that might surprise your All-Options colleagues.
I'm not sure what would surprise people, but I know I've got a few seemingly random facts about me. For one, I used to be a baton twirler, and I was really into it for a few years- from school talent shows to local parades to national competitions.
What's your favorite thing to do for fun?
I love painting, drawing, cooking, baking, gardening, and taking leisurely walks. I love to do all of these things close to home with my husband and pup, and I also like to travel to new places from time to time.
If you could have any one person, living or dead, over to your house for dinner, who would it be and what would you make?
The first person that comes to mind is Prince. I'd want the meal to be something he really loves so I'd start by contacting his private chef(s) to get help in creating a multi-course menu full of Prince's favorite things. For dessert, I'd most likely make a raw coffee and salted caramel cheesecake.
If All-Options' mission were achieved and all ppl had the support and resources they needed for pregnancy parenting, abortion, and adoption experiences, where would you want to give more of your time?
I would devote more time and energy to food justice, non-human animal well-being, and visual art. If I had the resources, I'd love to run a farm animal sanctuary.