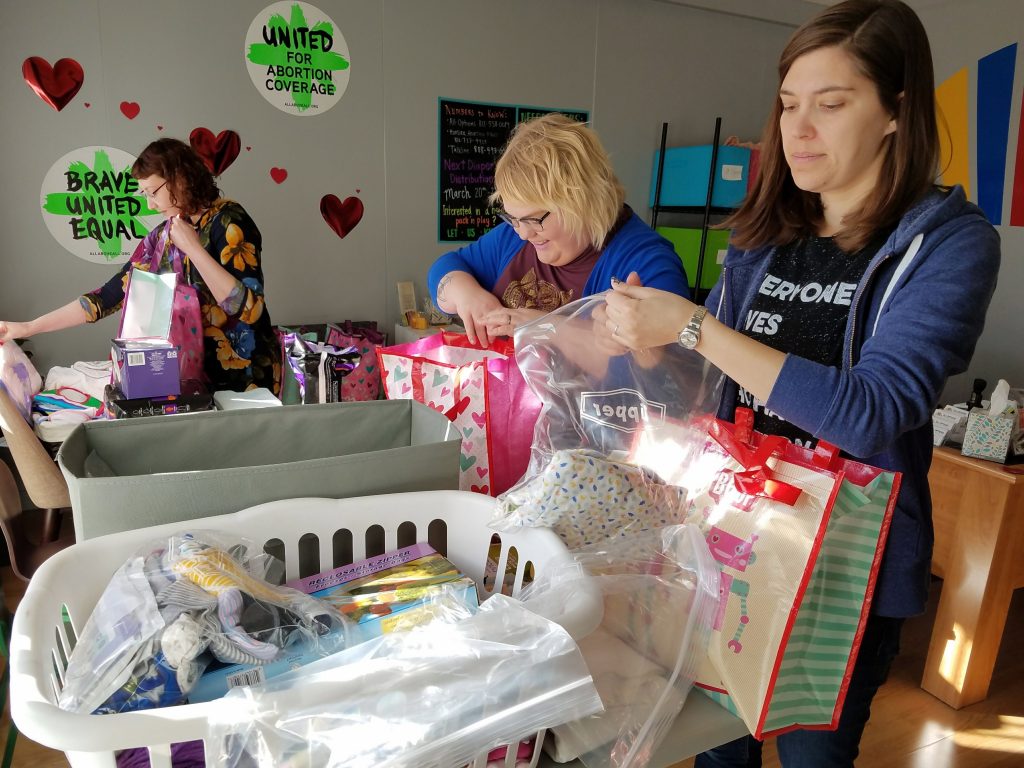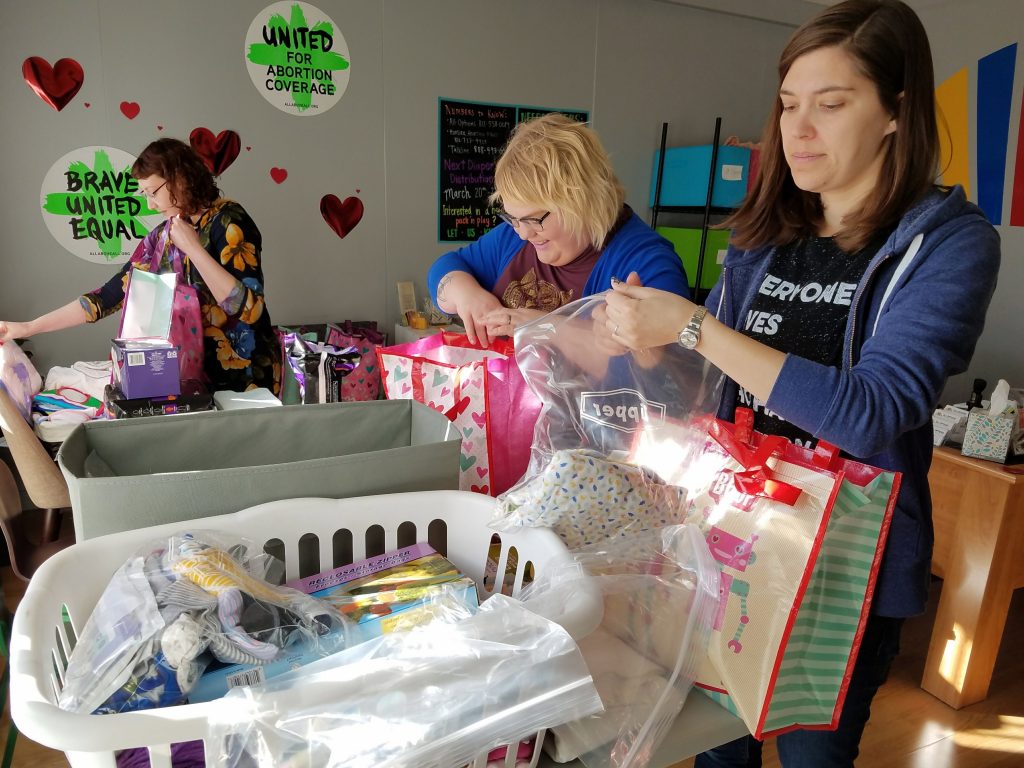 At All-Options, we believe caring communities support people in making the best decisions for themselves and their families. And you can help! Right now, we're primarily recruiting volunteers for opportunities at our All-Options Pregnancy Resource Center, based in Bloomington, IN. Read on to learn more about how you can be a part of the All-Options community!
Drop-in volunteer days
Have you ever wanted to get involved with All-Options, but aren't sure about making a long-term commitment? Looking to give back and make a meaningful difference in your community? Join us for drop-in volunteer time, the first Friday of every month from 9:30 – 11am. We'll be asking for your help organizing client resources like diapers, putting together safer sex kits, compiling outreach materials, and more! No sign up needed — just come by! All ages welcome!
All-Options Activist Squad
Angry about the state of reproductive rights and justice in Indiana, and looking for a way to make a difference? Join the All-Options Activist Squad, and channel that anger into powerful advocacy for social change in Indiana. All-Options Activist Squad volunteers will have the opportunity to roll up their sleeves and provide hands-on support with event planning, lobbying, communicating with legislators, fundraising, and other advocacy efforts intended to shift the current political narrative into one that supports all individuals, families, and communities. Activist Squad volunteers will work together in person and virtually on specific activities, and will be brought together quarterly for on-going support, community, and education.
Practical Support Network Volunteer
Beyond the cost of the actual medical procedure, there are many barriers to abortion access nationwide, but they are especially challenging in hostile states like Indiana. Practical support is a way to offer tangible assistance to people seeking abortions; it can be anything from giving someone a ride to their appointment, sitting with them in the waiting room to provide emotional support, or helping folks arrange lodging and childcare accommodations, to providing material support to help offset the cost of care and lost wages (diapers, gas cards, post-abortion care packages). Practical support may look different from community to community, based on their specific needs; we aim to tailor the kinds of practical support to the communities we serve. Practical Support Network Volunteers must live in or near South Bend, Fort Wayne, or Bloomington. Trainings for Practical Support Network Volunteers will start in Spring 2018 — more info to come soon!
All-Options Peer Counseling Advocate
If you're looking for a rewarding volunteer or internship experience that allows you to get direct hands-on experience providing judgment-free support to people in all their pregnancy, parenting, abortion, and adoption experiences, you've found it! Be at the forefront of making reproductive justice a reality for all Hoosiers within a supportive and inclusive community – apply now to become an All-Options Peer Counseling Advocate!
Peer Counseling Advocates staff our National Talkline and/or offer peer counseling support to clients at the All-Options Pregnancy Resource Center in Bloomington. Trainings for new Advocates are held 2-3 times each year. Once accepted into the program, volunteers complete a 40-hour training in the All-Options model of peer counseling and learn how to facilitate judgment-free, client-centered conversations around the full spectrum of experiences with pregnancy, parenting, abortion, and adoption. In addition to the initial training, Advocates continue to meet on a monthly basis for on-going support, community, and education. They also participate in summer and winter retreats that focus on community-building and skill-building. Advocates commit to work three 4-hour shifts per month and to serve on the Talkline for at least one year. We are currently recruiting people based in Bloomington, Indiana. If you are interested in applying to become a Peer Counseling Advocate, please fill out our online application!
All-Options Interns
Looking for a rad internship? We're here for that too! All-Options Interns provide peer counseling support to callers on our national Talkline and in-person with clients seeking diaper assistance through our Hoosier Diaper Program, abortion funding through our state-wide Hoosier Abortion Fund, pregnancy tests, and pregnancy options counseling. Interns will also work on a self-directed project related to services offered through our All-Options Pregnancy Resource Center. Following the completion of their training, interns must be able to provide 8-16 hours of service a week, generally between 10am-5pm Tuesday-Friday. To apply for the internship program based out of All-Options PRC, please fill out our online application.
Other Opportunities and Partnerships
If you're not based in Bloomington, please let us know if you're interested in volunteering and partnering with us by completing this form and we'll get back to you with available opportunities!